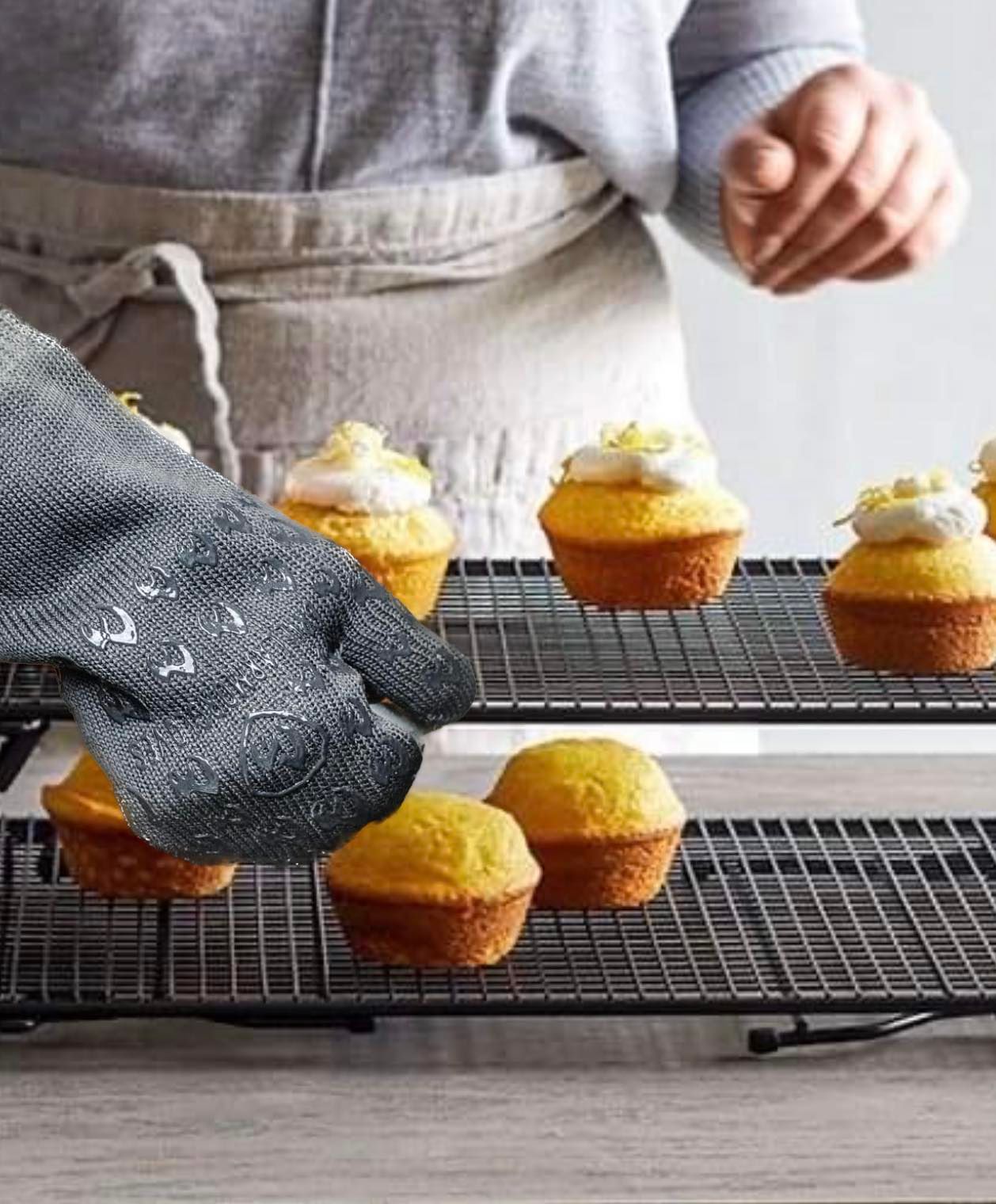 The best oven glove: Grill Armor Extreme Heat-Resistant Oven Gloves
March 06, 2023
The Grill Armor Extreme Heat-Resistant Oven Gloves provided the best maneuverability and dexterity compared with the other oven mitts and pot holders we tested. The silicone lines on both sides of the Grill Armor gloves provide a secure grip when holding pots and pans. These aren't as heat resistant as our other picks, but still work well for quick tasks like removing pot lids or retrieving a pie from the oven. Keep in mind that the Grill Armor gloves won't protect your hands if they get wet. Also, most of our testers had lots of room to spare in the finger slots when wearing these gloves, but they said it didn't impede their dexterity.
Grill Armor's gloves are made of a blend of durable, heat-resistant polyamide fabrics (M-Aramid and P-Aramid, if you're really curious) with an inner lining that's 100 percent cotton. They're machine washable, but should be air-dried only. According to the manufacturer, they're heat resistant to 932 °F for 12 to 14 seconds. However, in our tests, we were able to lift a heavy 400 °F cast-iron skillet for an average of only 8 seconds using these gloves (though you should be able to hold lighter items for a bit longer). They also take longer to slip on compared with a traditional oven mitt or pot holder, which isn't ideal if you're making a mad dash pull out that bubbling casserole from the oven.
We like the Grill Armor gloves because they have a longer cuff than many similar oven gloves, but they still don't offer as much arm coverage as oven mitts we recommend. Pie expert and cookbook author Kate McDermott told us, "I've actually gotten rack burns from [the Grill Armor gloves] too as I had to get my arms in the oven further to get a good grip with my fingertips on the edges of the pie pan." She said her solution was to pull the oven rack out slightly before retrieving an item from the oven to avoid burning her forearms.
Back to blog